White Label Services for Heat-not-burn Sticks and the Private Label
Ccobato is one of the largest heat-not-burn manufacturers in China. Our expertise lies in providing solutions for producing, manufacturing high-quality heat-not-burn products. We devote ourselves to helping our customers develop exciting new product ranges in the heat-not-burn area.
Our experienced team is ready to help you put a white label on your fantastic range of heat-not-burn sticks. Our goal is to provide the best products and services so that your business has the opportunity to grow in the heat-not-burn market!
White Label Service
Full Brand Production
Co-Packaging
Flavour & Brand development
TPD Compliance
Full Design Service
Social Media & Marketing Support
Extensively tried and tested popular flavors
The competitive price maximizes your profit
Manufactured in a state-of-the-art cleanroom
Distribution support
Full-Service heat-not-burn products manufacturing
What is a white label?
A white label (or private label) product is a saleable item without a brand. The company can then purchase the product, add its own brand, and sell it to consumers as its own brand.
White labeling is a perfectly legitimate way for companies without manufacturing capabilities to create their own branded products and expand their product range.
Once you have selected the one you like from our extensive list of flavors, we will have our expert flavorists create the heat-not-burn sticks you chose. Our design and marketing team then designs a label based on your specific requirements.
You don't have a clear idea for your label design? Don't worry! Our private labels are proven sellers, but if you want to put your own stamp on a product, we will walk you through the design process step by step and help you develop a product that truly represents your company.
As a white label company, we are involved in the process from the beginning to the end. In this way, we can ensure that our service and product quality are 100% consistent.
What is the difference between OEM and ODM?
OEMs (Original Equipment Manufacturers) and ODMs (Original Design Manufacturers) offer different types of white label solutions.
For the OEM, you are responsible for coming up with the product design, and the source company will manufacture the product for you according to your specifications. You need to describe the color scheme, materials, dimensions, and other important details. In other words, you are in charge of the design and R&D of the product.
The ODM, on the other hand, is responsible for the entire process. Creating a product can be resource-intensive, as you need to source materials and apply multiple expertise, but ODM already covers all aspects, including product development, manufacturing, and delivery. You can choose to buy existing products or work with an ODM on personalized products, providing your input throughout.
At Ccobato, we offer OEM, ODM and complete white label services, allowing you to choose the level of involvement you want to have in the process.
What is the difference between a white label and a private label?
There is a quite subtle difference between a white label and a private label. White label products can be purchased by any company, while private label products are sold to only one company. So while all of our flavors are available to each of our customers, you can rest assured that your own unique design will be exclusive to you.
Why do you choose us?
Flavor and brand development are essential to us, and we are proud of the work we do. We currently have the nicotine-free Ccobato Herbal Sticks and the nicotine-containing Unicco Herbal Sticks which have been successful in taste and vibrant branding. Those who already know us will learn that our tastes are trustworthy and that our brand stands out from the crowd.
Our full-service heat-not-burn manufacturing is a great choice if you have some ideas for your dream brand, look, and taste. This full service will include flavor and brand development, labeling, final product packaging, full TPD compliance, and help with distribution once your dream brand is ready for launch.
You are allowed to start with an extremely low capital
We take care of all manufacturing and production aspects of the business. You don't need to apply for expensive and time-consuming manufacturing licenses.
Research and Development
We have a team of top engineers, scientists, and designers dedicated to researching and developing your white label products. Our R&D team members have extensive experience and have worked in the industry for many years, enabling us to produce prototypes that match your needs. All of the research and development work will be done in an accredited laboratory.
High-quality Products
Our state-of-the-art facilities provide our customers with high-quality products manufactured in clean rooms.
Testing and Certification
All of our manufactured products are extensively tested by internationally recognized third-party laboratories, which will allow your product to be fully certified prior to release.
Graphic Design
Our graphic design team has e-juice graphic design skills specifically for the e-cigarettes and e-cigarette industry. Whether you are looking for logos, labels, posters or any other marketing materials, we can meet your needs.
TPD
If this is the approach you wish to take, we have the means to ensure that your dream brand is fully TPD compliant and legally sold in the UK and EU. So you don't have to do paperwork or waste time. Just leave it to us to ensure your dream brand is up and ready for sale in a matter of weeks!
Brand Protection
You will have legal ownership of all products. We have strict contracts and confidentiality agreements, so you are protected from the first day you contact us.
More than Just A Manufacturer
Our comprehensive marketing support will help you sell your products and make your products stand out from the competition. We're here to guide you every step of the way, and we can't wait to show you how we can help you grow your business.
SEO Guidelines
The heat-not-burn industry is quite different from all other industries due to the current confusing regulatory measures. What troubles many in the heat-not-burn industry is the advertising handling by sites such as Google and Facebook. They argue that the heat-not-burn industry is not a good fit for advertising or other forms of marketing on their sites, so organic search results are the only way to go. That's where we cut through. We provide initial and ongoing SEO guidance to get you to the top of the search rankings based on your budget. Because of our extensive experience in this industry, we can offer help to you more cheaply and efficiently than other SEO companies.
Social Media Marketing Guidelines
Social networking is one of the best ways to promote your heat-not-burn brand to the public. Social media networks are essential for raising awareness of your brand's voice and content, as they make it easier and more accessible to help you reach new customers and make you more familiar and recognizable to existing customers. We have a wealth of experience in working with influencers in various regions and fields. We can give appropriate guidance and support in social media marketing.
White Label Partners
While most white-label services require you to sign a huge contract that locks you into a certain number of products before you even know how well it sells, we pride ourselves on our small minimum order. We are able to provide any level of white label partnership you may require.
Still undecided?
If you don't know what flavors you're looking for but know what brands you want, and you're willing to try them from our off-the-shelf offerings, then it's possible! We have almost all flavors like fruits, coffee, tobacco, etc.
How do we work?
Please see the workflow diagram below for more information about our development process. We take care of every step from the very beginning to the final work!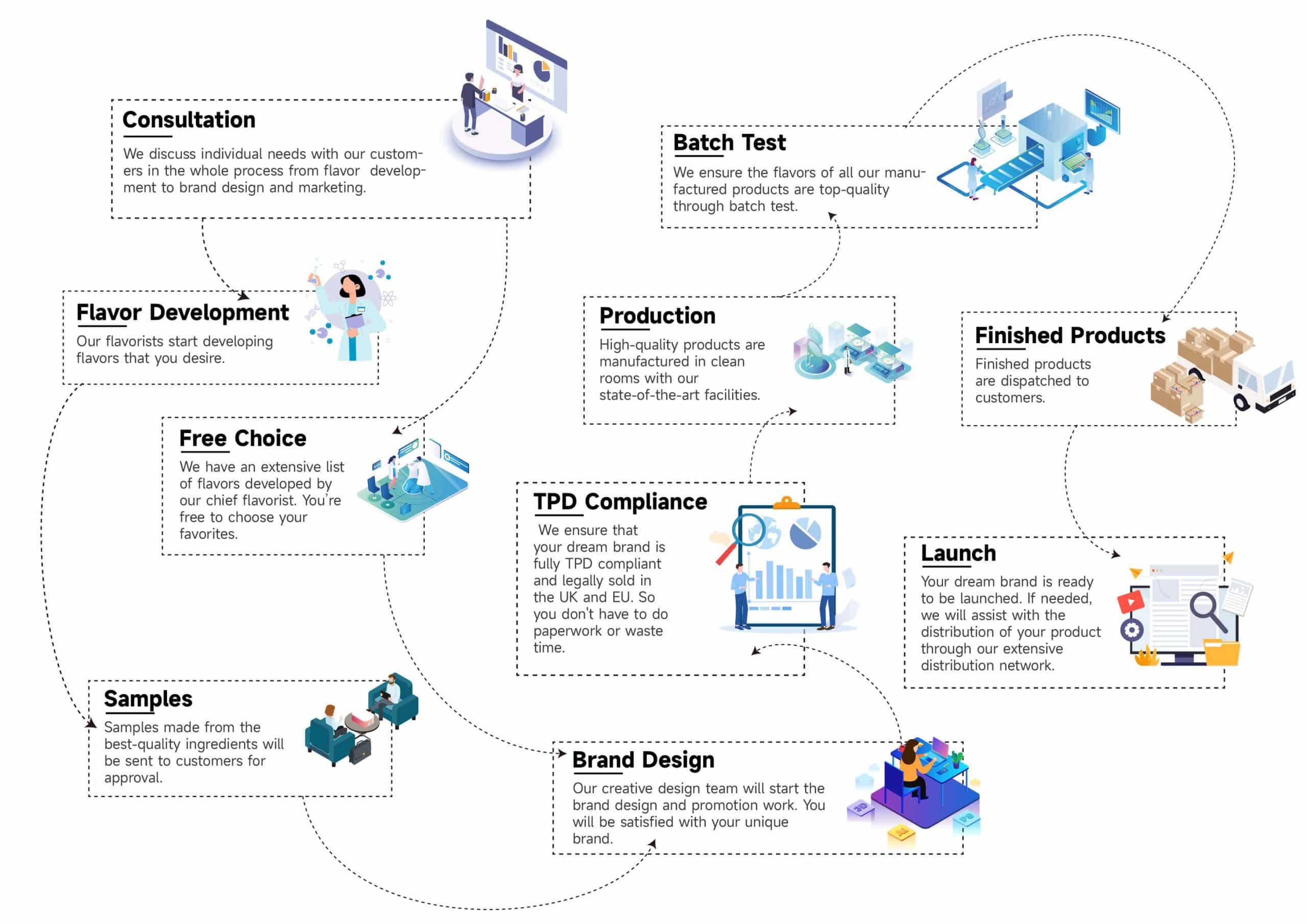 Contact
We have a wealth of experience in this industry. Only your imagination limits you. We can help you turn your vision into reality and create the products your brand deserves.
Providing the white label, OEM and ODM services, we handle the end-to-end process for you from R&D to manufacturing and distribution.
If you're looking for a professional but friendly team with products of various palatable flavors and good brand identities to make your dream brand come true, then look no further than Ccobato! Contact us today for a free consultation.