Sentia is a stick brand launched in Japan after Terea. It is compatible with IQOS ILUMA devices with its smart conduction core. Just like Heets, Sentia is mainly for the global market. And here are some FAQs about Sentia.
Q1: How many available flavors of SENTIA?
Q2: Is Sentia similar to Terea?
Q3: Does Sentia taste worse than Terea?
Q4: Does Sentia taste better than Heets?
Q1: How many available flavors of SENTIA?
There are totally 13 sorts of flavors sold overseas. Five regular types, four menthol types and four flavored types with menthol are included.
Each series has a fairly equal amount of flavors, and new flavors will continue to be released in the future. Users who are interested in SENTIA flavors can look back to this article periodically to get the latest information because it will be updated as soon as new flavors are made available.
| | | | | | |
| --- | --- | --- | --- | --- | --- |
| Regular type | Deep Bronze | Pure Teak | Balanced Yellow | Smooth Gold | Clear Silver |
| Menthol type | Icy Black | Frost Green | Cool Jade | Fresh Emerald | |
| Flavored type with menthol | Icy Purple | Fresh Purple | Citrus Green | Tropical Yellow | |
The following is a specific introduction to 13 flavors.
Regular type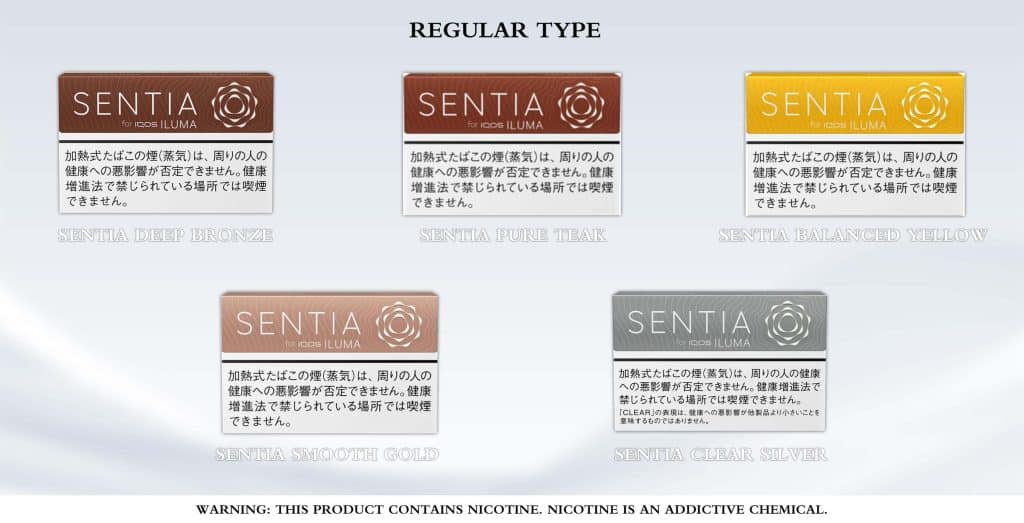 Deep Bronze: It's the most recommended flavor for those who love classic tobacco taste.
Pure Teak: It features mild traditional cigarette flavor which is lighter than Deep Bronze.
Balanced Yellow: The taste is slightly sour. The tobacco aroma is rich but not as strong as Deep Bronze.
Smooth Gold: It is the latest flavor, suitable for people who like light cigarettes. It is more refreshing and mild than clear silver.
Clear Silver: The tobacco flavor is a bit lighter than Deep Bronze. It's for smokers who like mild and mellow tobacco taste.
Menthol type


Icy Black: It's a menthol type full of coolness. After smoking the stick, it feels as refreshing as sucking a mint. The menthol taste is the strongest among all menthol types, which dims its tobacco taste. So, when using Icy Black, you may feel the tobacco taste less strong. If you want an extra strong taste of menthol and coolness, then Icy Black comes highly recommended.
Frost Green: Although its menthol taste is not as strong as the Icy Black, it is still a strong menthol-flavored stick. Therefore it is recommended for those who want to enjoy the strong tastes of both tobacco and menthol.
Cool Jade: Compared with Fresh emerald, Cool jade is more rich and fragrant. The aroma mainly comes from mint and vanilla. You will find the taste and aroma more refined switching from Heets Cool Jade to Sentia Cool Jade.
Fresh Emerald: Of all tastes of Heets, Fresh Emerald is seen as a weak menthol for its coolness would stay for a short time after smoking. For the brand Sentia, Fresh Emerald is also the one with the lightest menthol taste. But with the properties of IQOS ILUMA models and the smart core conduction system of the stick itself, the menthol taste of Sentia Fresh Emerald would tastes stronger than that of Heets Fresh Emerald.
Flavored type with menthol


Icy Purple: It is a brand-new new flavor added to Sentia portfolio, which cannot be found in Heets series. It is berry-flavored and neutralizes the strong cooling sensation of mint, which produces a pleasant and comfortable smoking experience.
Fresh Purple: It's the only one of the flavored menthol sticks that has listed at present. It's a combination of the freshness of menthol and the sweet aroma of berry. The other flavored menthol tastes will be released very soon. But why not try this first if you like flavored type with menthol.
Citrus Green: You can enjoy the refreshing aroma of citrus. It mixes the citrus flavor and refreshing menthol, reducing the miscellaneous and impure smell of Heets.
Tropical Yellow: The flavored menthol type with mixed fruit flavor. The cigarette smell is obvious when you open the pack. But after smoked, the refreshing aroma of the cocktail mixed with mango and coconut milk spreads in your mouth. Without the unpleasant taste of tobacco, it is recommended for those who like sweetness and tropical fruits.
The thirteen flavors basically satisfy Japanese smokers' demands, especially those who love the coolness of menthol.
Q2: Is Sentia similar to Terea?
There are some similarities between Sentia and Terea. A total of six flavors can be roughly matched to six of Terea's flavors. The chart shows all the listed flavors of Sentia in Japan and the corresponding tastes of Terea.
| | |
| --- | --- |
| The flavor of Sentia sold in Japan | The matchable flavor of Terea |
| Sentia Deep Bronze | Terea Rich Regular |
| Sentia Pure Teak | Terea Regular |
| Sentia Balanced Yellow | Terea Balanced Regular |
| Sentia Smooth Gold | Terea Smooth Regular |
| Sentia Clear Silver | Terea Smooth Regular |
| Sentia Icy Black | Terea Black Menthol |
| Sentia Frost Green | Terea Menthol |
| Sentia Cool Jade | Terea Mint |
| Sentia Fresh Emerald | Terea Mint |
| Sentia Icy Purple | Terea Black Purple Menthol |
| Sentia Fresh Purple | Terea Purple Menthol |
| Sentia Citrus Green | Terea Yellow Menthol |
| Sentia Tropical Yellow | Terea Tropical Menthol |
We can make a comparison between Terea and Sentia at Japanese convenient stores. Sentia is 50 yen cheaper than Terea. If you find their tastes are almost the same or the flavors of Sentia are more unique and special than those of Terea, then save that 50 yen every time you buy the stick and you'll save a lot in a row.
Q3: Does Sentia taste worse than Terea?
Though Sentia is 50 Yen cheaper than Terea, it is as good as Terea. However, you get what you pay for. That's what people generally believe. So you might doubt Sentia's tastes are not as good as Terea's flavors since they are 50 yen cheaper. Well, things are not like that. Sentia can be 50 yen cheaper for two reasons.
The most important reason is PMI owns its factories in Italy, Greece and Romania. Sentia's sticks are all manufactured in Italy so actually the production cost can possibly be reduced.
Besides, Terea, the new alternative of Marlboro that is compatible with the latest IQOS heating device, is the most expensive stick with the smart induction core. If the tobacco tax increases in Japan, Terea will become way more expensive. That's why the manufacturer produces the cheaper Sentia so that users can buy the alternative compatible stick at a lower price.
So, Sentia gets its cost reduced under the premium that its good taste is ensured. As you'd concern Sentia will taste worse than Terea but there's nothing here to worry about. Just go for it and it will not let you down.
There has been an update that all Marlboro and Heets brands will be eliminated in January 2024, so learn more about TEREA and SENTIA flavors and then switch whenever you like, even when the original stick brands are discontinued.
Q4: Does Sentia taste better than HEETs?
Sentia and Terea taste better than Heets and Marlboro. Though the tobacco leaves used for Sentia are the same as those used for Heets, people say it tastes better than Heets. Actually, compared with Heets, Sentia's tastes are more mellow and refreshing. But how would that happen?
Well, that's mostly because Sentia uses the smart conduction core. The end of tobacco leaves is covered by a front seal so that the leaves would not fall to emit an unpleasant smell after smoking. And the aroma of tobacco can be well saved in the stick when inhaling. Besides, the holder can always keep clean and be ready for use next time. With filter cotton on both ends of the stick, impurities are greatly filtered to make the smoke more pure.
Let's make a comparison of Sentia's structure with that of Heets.
The biggest difference is that Sentia contains the smart conduction core while Heets doesn't. Sentia is only compatible with IQOS ILUMA models while Heets can be inserted into any previous heating devices of IQOS other than IQOS ILUMA devices.
After comparison, the front seal cotton of Sentia is tighter than the filter cotton so that the processed tobacco leaves will not fall down and the residues will not be left in the heating devices. In addition, to inhale the aerosol more conveniently and easily, the filter cotton in the mouthpiece is designed to be looser. The filter cotton of Heets is as tight as the front seal cotton of Sentia.
In terms of appearance, the characters of "Sentia" is above a wavy line and a dotted line. And a straight line is below the dotted line. The exclusive logo of Heets in any of 6 colors is above the straight line.
(Notes: Please be aware that the trademarks of TEREA, SENTIA and IQOS mentioned in this passage are of PMI and have nothing to do with CCOBATO. Furthermore, PMI's products have nothing to do with CCOBATO's products. All statements here represent the article partner's opinions.)