Perhaps you're an IQOS hobbyist switching to IQOS ILUMA from the previous models like IQOS 3 Duo or a newer first trying to use it. Anyway, you should really want to know Terea which is exclusively designed for use with Iqos Iluma devices and pick out your favorite flavor.
Four types of Terea's flavors – Regular series, Menthol series, Flavor Regular series, and Flavor Menthol series
With 20 flavors of choices in total, Terea sticks can be categorized into four types – regular series, menthol series, flavor regular series, and flavor menthol series.
The chart below shows the category of Terea and the specific one you want to learn. Use these links to find more information.
| | | | | | | | | | | |
| --- | --- | --- | --- | --- | --- | --- | --- | --- | --- | --- |
| Regular | Rich Regular | Regular | Smooth Regular | Balanced Regular | Warm Regular | Bold Regular | | | | |
| Menthol | Black Menthol | Menthol | Mint | | | | | | | |
| Flavor Regular | Ruby Regular | | | | | | | | | |
| Flavor Menthol | Black Purple Menthol | Purple Menthol | Fusion Menthol | Black Yellow Menthol | Yellow Menthol | Black Tropical Menthol | Tropical Menthol | Bright Menthol | Oasis Pearl | Sun Pearl |
Regular series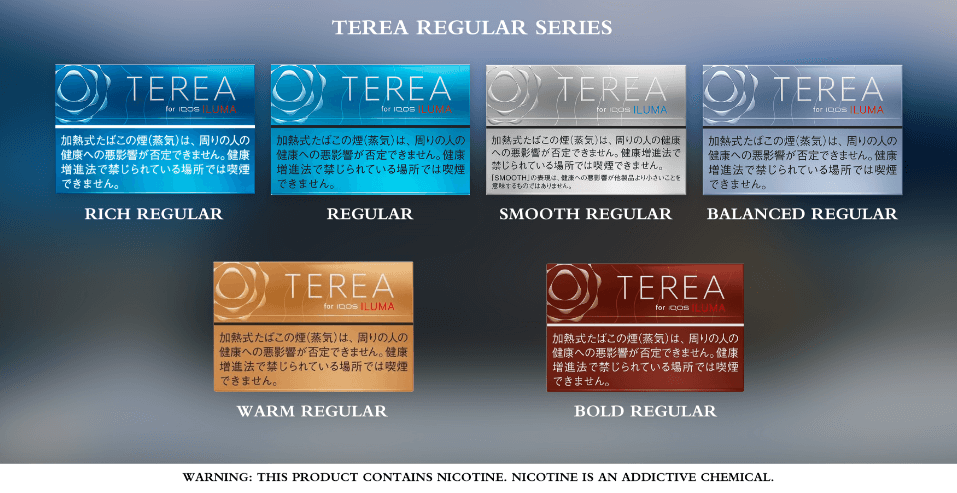 The regular series includes tastes of Rich Regular, Regular, Smooth Regular and Balanced Regular. The reason why we call them Regular series is that they are tobacco-based flavors. With the strength, fullness and aroma considered, the tobacco taste gets lighter from Rich Regular to Balanced Regular (from left to right in the table).
Terea warm regular: A flavor which was debuted last winter and differs slightly from the previous regular ones, has nutty and woody notes to enjoy the traditional regular tobacco taste and smell as well as a moderate throat hit.
It doesn't have a fruity taste, but its woody and nutty flavor mellow the tobacco flavor. As the name suggests, it gives a warm feeling and is great for smoking on a cold winter day.
Terea bold regular: It's a new regular flavor following the development of five regular flavors so far. Regular cigarettes account for more than 40% of all tobacco consumption. When cigarette users turn to the "IQOS Iluma" series in the future, it will be important to have a diverse portfolio of regular cigarettes.
Terea bold regular and Terea warm regular share a common development concept. Without fruit flavor, but with cinnamon, clove woody flavor, it adds richer smoking layers of the traditional tobacco taste.
Menthol series


The menthol series splits into Black Menthol, Menthol and Mint in accordance with the coolness of menthol. Also, the menthol taste gets lighter from Black Menthol to Mint. By the way, Menthol-flavored Terea ranks top one in Japan.
Flavor Regular series


It's a brand new flavor launched in Japan. It's a combination of red berries and tobacco without menthol, full of the sweetness of red berries. It's specially designed for those who like tobacco with a fruity aroma but dislike menthol.
Flavor Menthol series
As the category implies, it's a mix of flavors and menthol. The flavor Menthol series can still be broken down into three portfolios.
Black berry-based menthol flavors


The first group is Black Purple Menthol, Purple Menthol and Fusion Menthol. It is the combination of menthol and black berry. Black Purple Menthol is the sweetest with the strongest menthol taste. Purple Menthol is just next to it. The Fusion Menthol is infused with blossom, so it's a special mix of three sorts of flavors – black berry, blossom and menthol.
Citrus-based menthol flavors


The second group is Black Yellow Menthol and Yellow Menthol. The two flavors are included with the aroma of citrus. The citrus aroma of Yellow Menthol is the same as that of Black Yellow Menthol while its menthol taste is weaker.
Tropical/Green fruits-based menthol flavors

The third group is Black Tropical Menthol, Tropical Menthol and Bright Menthol. Both Black Tropical Menthol and Tropical Menthol mix the aroma of tropical fruits and menthol, featuring the exotic refreshing taste while Bright Menthol is full of the refreshing feeling of green fruits as officially marks. So both Tropical Menthol and Bright Menthol are flavored with the aroma of fruits and menthol.
Only the fruits are kind of a bit different. Most green fruits grow in temperate or subtropical areas like grapes, kiwi, apples, avocados, etc. Compared with green fruits, tropical fruits are sweeter due to a plenty of sunlight, high temperature and abundant rain. So, the sweetness and aroma of Tropical Menthol should be a bit lighter than those of Bright Menthol.
For the record, Terea is not produced in Japan but in Italy. PMI has its factories in Italy, Greece and Romania. Terea sticks are manufactured mainly in Italy, so the best-selling Terea in Japan now are basically imported from Italy.
Capsule menthol flavors

Terea Oasis Pearl and Terea Sun Pearl contain popping beads, which are found in a variety of tobacco products, such as traditional cigarettes, and heat-not-burn sticks. Popping beads in tobacco products are often labeled as "Capsule," "Crush," or "Pop," while Terea is figuratively dubbed "Pearl."
In addition, their packs differ from the others in that there is a simple white circle in the center of the top left corner of the pattern, indicating that it comes with a pop pearl, while the other flavors do not.
Terea Oasis Pearl is a blend of raspberry, mango, lychee, and peach flavors with a tropical coconut flavor. Terea Sun Pearl tastes strongly of melon. These two flavors have a gorgeous aroma, a fruity sweetness and a menthol coolness.
Why is Terea Menthol the most popular in Japan?
In Japan, the top three flavors of Terea are Menthol, Rich Regular and Black Menthol.
Why do Japanese love Terea Menthol so much? Actually, it's not the Terea Menthol that Japanese only like. They really love the cool feeling and all goods with menthol. It's common to see goods added mint here and there in Japan like the scrub, lip balm (Mentholatum lip balm), steam eye mask, shaving cream, shampoo, body wash and other daily necessities, and even foods such as chocolate menthol ice cream, mint candy, menthol cigarettes and so on. So menthol-loving Japanese like Terea Menthol best.
Why do Japanese love menthol and coolness?
But why Japanese love menthol and cool feelings? There are reasons.
Menthol brings refreshing spirits at work
The most important reason is that the coolness of menthol helps them lift their spirits and keeps them energetic at work.
Though the Japanese labor law says employees should work for maximum hours of 8 per day and 40 hours per month, the dedicated working culture and collectivist hierarchical Japanese society drive them to work a long time.
For example, getting to the office 2 hours earlier or working extra hours of overtime is just too common for the salaryman. Even the naptime could be too short for them to get some sleep. The long working time has been their daily routine.
In such cases, they really get tired and lack sleep. And the menthol would help them a lot. For smokers, menthol cigarettes and sticks would be their best choices.
Japanese Ice Culture and Geographical Location
Whether it's in summer or winter, Japanese don't like hot water. They want the icy water to get cool feelings. At the same time, Japan is surrounded by the Pacific Ocean. The location against the sea makes Japanese love coolness naturally. The ocean itself gives people refreshing and cool feelings.
So, based on the above reasons, Japanese love coolness so much and they really like goods with menthol which can bring them cool feelings. That's the reason why Terea Menthol is the best-selling stick among so many choices of flavors. And a total of 10 kinds of menthol flavors of Terea sufficiently proves Japanese's love for menthol.
Ccobato's Mature Product Lines
Terea is a tobacco product that contains nicotine. The most commonly used sticks today, except tobacco products, are herbal ones. Herbal sticks are mainly developed for those who need to quit smoking, seek cost-effective solutions and encourage a healthy way of life.
Customers who prefer herbal sticks might try CCOBATO's Ccobato and Unicco brands. It is simple to transition from Terea to Ccobato, owing to the following factors:
1. The newly developed Ccobato and Unicco can are compatible with IQOS Iluma devices, including IQOS Iluma, IQOS Iluma Prime, and IQOS Iluma One.
2. The ingredients used in Ccobato's products are herbs, which are healthier and more in line with the needs of smoking cessation.
3. Ccobato's products are cost-effective, ensuring quality while being significantly less expensive than Terea.
4. Ccobato offers more product lines and flavor options, and even allows for customer-specific customization.
Ccobato's herbal sticks are compatible with blade and needle heating devices. Ccobato focuses on developing the best flavor with precious herbal raw materials. And now the company has developed four mature product lines to satisfy the needs of customers worldwide.
1. Nicotine-free series: Pronounced and well-defined fruity flavor together with sweetness and coolness. The substrate is clean without impurities. It doesn't contain tobacco extract. This series would be more appropriate for groups who propose a healthy life style and cease to smoke.
2. Nicotine-containing fruity series: The fruity flavor is increased and distinct. Additionally, the sweetness is increased while the coolness is decreased. The substrate is clean without impurities. From the perspective of flavor reference, it will be more preferred by European vape lovers and people who like fruit-flavored htps.
3. Heets-like series: It contains tobacco extract, full of rich tobacco aroma and fruity sweetness while the fruity aroma is not pronounced. The highlight of this series is that it achieves 60% of tobacco taste with herbal materials. It is recommended for those who like cost-effective heated tobacco products.
4. Tobacco series: It uses carefully chosen, premium tobacco leaves as raw materials, which makes rich, full and smooth tobacco aroma and taste. It is the best heated tobacco product ever made, which is intended for IQOS users.
It is a reminder that the previous three series are products made of herbal leaves while the tobacco series is based on tobacco materials.
Ccobato produces the best non-tobacco products. Following years of development and improvement, the company's goods are now widely available in Europe, Russia, Asia, and Southeast Asia. More than 870,000 cartons/174 million sticks were sold overall.
Please visit https://www.ccobato.com/tips/the-latest-introduction-to-ccobatos-products/ to discover more details.
Conclusions
All flavors of Terea are divided into three portfolios – Regular series, Menthol series, Flavor Regular series, and Flavor Menthol series. The flavor list of Terea clearly shows 15 kinds of flavors of Terea, of which Menthol and Flavor Menthol account for 11, which well indicates a good sales market for menthol taste. Among those 15 Terea sticks, Japanese smokers love Menthol best. And Rich Regular is only next to it.
Besides Terea, Ccobato is an excellent alternative if you want to find healthier, affordable heat-not-burn herbal sticks that taste like Terea. Please message or contact us when there is a need.